Supporting Natasha's Law using Datasym's Menumark Solution
From 1st October 2021, all food businesses in England, Wales and Northern Ireland have to provide a full ingredient list and allergen labelling when selling Prepackaged for Direct Sale Foods (PPDS Foods) from their premises. The UK Food Information Amendment 2019, known informally as Natasha's Law, will apply in England, Wales and Northern Ireland.
What is Needed?
PPDS foods must have the following on their packaging from October 2021.
The name / description of the food
Full ingredients list with highlighted allergens
All allergens that are present – this can be either Bold, highlighted, underlined, in a different colour, in italics or CAPITALS for ease of identification.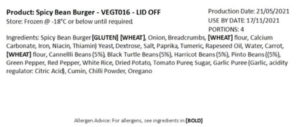 How can Datasym help?
Datasym can provide custom labels through its Menumark solution to fit your requirements to ensure that your business meets the requirements and guidelines set out from 1st October 2021.
Contact Datasym at sales@datasym.co.uk or call 0844 870 9206 to find out more info.