Here are some instructions to assist you with the changing hospitality VAT rate from 5% to 12.5% on October 1st 2021
You will be aware that the previously discounted VAT rate of 5% for the hospitality sector rises to 12.5% on October 1st 2021.  Here is how to make the change on your Menumark or Stockade back office systems linked to DPOS SQL.
To adjust the VAT Rate value, you will need to complete this within Tools>System Options>General>Tax Groups.  From here you can amend the VAT rate for the Tax Group currently set to 5% covering the discounted hospitality rate to 12.5%.  The below image shows the Tax Groups screen in Menumark and Stockade.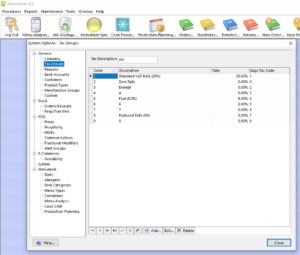 Please note that this change will not be received onto the POS terminals until you send a Batch Job to the tills with the Settings field selected, then restart DPOS after this, you can do so either by restarting from within the application or power cycling the till off and on, this will allow the POS to pick on the new changes at startup.  Do not send this update until the VAT change is ready to go live after sales on the previous VAT rate have been completed as it will take effect immediately.
Note that historical figures will not be affected as the VAT rate and value is stored against every transaction line to allow the ability to easily change VAT rates as needed.
IMPORTANT:  You should ensure you have a backup of your data before making any system options changes and it is your responsibility to ensure the system is working as required before operating live.
Contact Datasym for further information.