With pressures on catering departments within the NHS to provide a nutritious meal at a time when people need it the most and under very tight budgets, Datasym's expertise provides seamless and intuitive solutions to these specific NHS challenges.
We drive the highest standards of portion control and stock control to reduce wastage to acceptable levels.
Our systems are so well embedded within your organisation that patients can order their meal just hours before eating, reducing the risk of food orders that are left untouched at mealtime due to a change in appetite or circumstance.
Dietary analysis is integrated into our comprehensive recipe database, thereby keeping alerts high for allergens or special diets.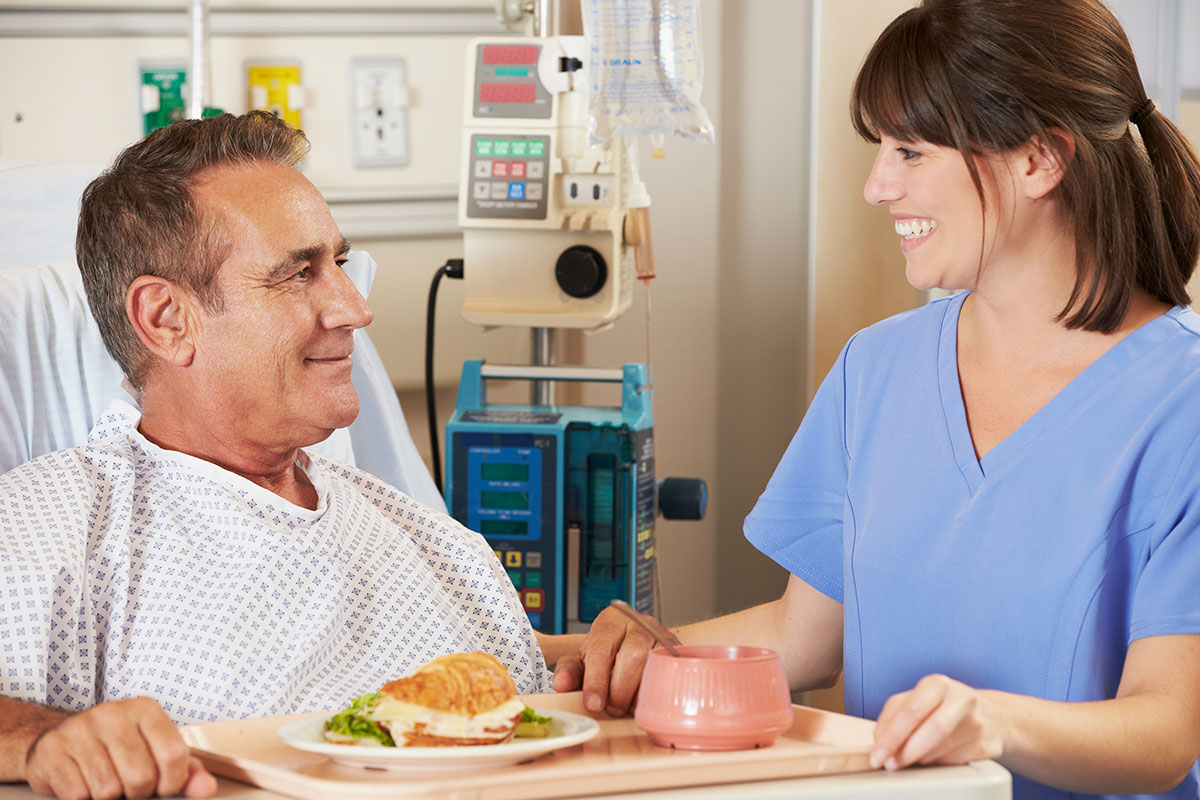 Download our Hospitals Menumark brochure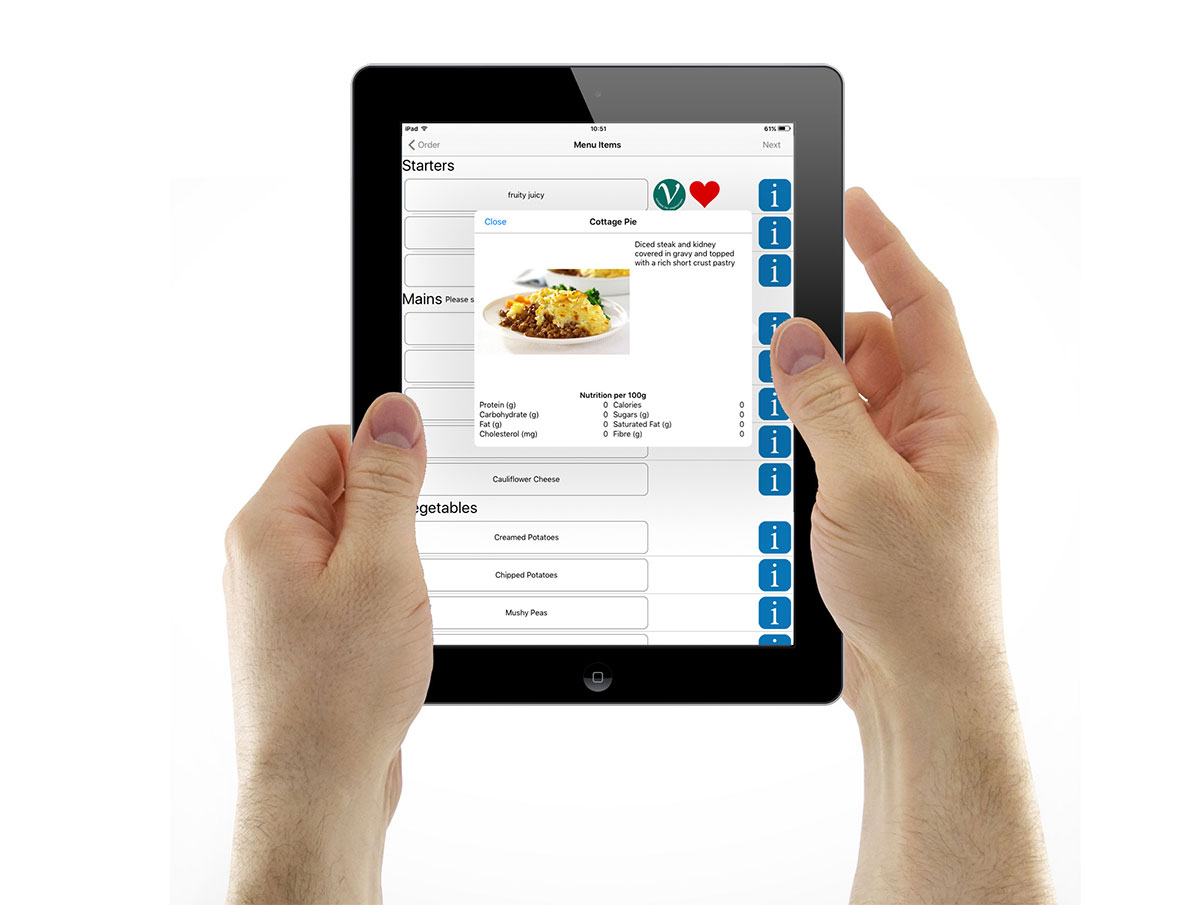 Production planning and menu planning work hand-in-hand on Datasym systems. Ingredients are compared in real-time using Menumark to ensure that you stick to budget while still planning the menu that you know will be best for the patients.
"From my point of view Menumark was a key enabler for the success of the patient food transformation with Jersey Hospital. We have seen a 40% reduction in food production since implementing patient ordering via Menumark. We've saved £15k per year in potatoes alone!."
Martin Keith
Project Lead, Jersey General Hospital
"Our working relationship with Datasym has been incredibly productive; not only reducing food waste levels but having the capacity to monitor progress on individual wards and this has been a huge benefit. The time spent with staff to train, support and confidence build when moving to an electronic system is vital and Datasym have made great progress. Our focus is on the patients and the correct ordering of food needs to be a simple and enjoyable experience."
Phil Shelley
Catering Manager and HCA Chairman, Musgrove Park Hospital -Taunton & Somerset NHS Foundation Trust
"I have worked in the Health service for 35 years and have used the Menumark system for over 30 of those years.
The system is very user friendly easy to understand and easy to edit and maintain provisions and prices.
I have found the system invaluable over the years, producing production plans for new Menus, providing production figures and daily meal costs before the meal is even served. This assists me to work within my provisions budget.
The system keeps on developing, we can now send prices to our tills at the click of a button.
The backup service we have from Datasym is second to none, the staff are polite and friendly and solve our problems in a fast and efficient manner.
I would recommend this system to anyone who is serious about keeping on top of ever changing demands of a busy Catering Department."
Pat Bell
Catering Manager, Scarborough Hospital
"The Menumark Solution from Datasym has delivered the following:

To the Patient:
• Patients receive the meal of their choice, in the portion size of choice and with a more flexible overall offer.
• Better nutritional outcomes for the patient
• Faster recovery and discharge

To the Trust:
• Better patient nutritional outcomes leading to speedier recovery rate and discharge, reduction in bed blocking
• Higher Place/Picker scoring through patient satisfaction surveys
• CQC commendation on best practice patient meal service.

To Catering:
• Reduce food purchase/production to "as required" and therefore cost of production to Catering
• Accurate and in time management information, allowing better forecasting and budgeting for patient dining
• Enhanced reputation for demonstrating best practice in sustainable economic food waste reduction
• Confidence and transparency around ERIC reporting.
."
Chris Neale
Head of Catering, Nottingham University Hospital NHS Trust
"The Menumark system from Datasym allows the multi-disciplinary team to easily access detailed information about our hospital food from the nutritional data and allergens to the actual recipe ingredients and cooking methods used, this allows us to ensure that nutritional standards are met and supports us with menu planning.
Pictures of the menu items allow patients to see what they are ordering. Front line staff can easily view the allergen information which supports those with food allergies choosing foods that are safe to eat. Having the nutritional data also viewable for staff and patients gives the ability to help people make informed decisions in supporting there nutritional requirements whilst in hospital. It gives ward teams including Dietitians information to support the nutritional care plans for our patients from those that are nutritionally well to those who are nutritionally vulnerable."
Nicola Strawther
Chief Dietetic Technician, Nottingham University Hospital
"The solution is much easier to use than our previous system, and it has helped us become more streamlined and efficient with very clear and concise reporting."
Paul Wells
Catering Manager, Jersey General Hospital