Removing the use of paper based meal ordering solutions and switching to Datasym's Electronic Meal Ordering solution reduces the risk of cross infection.
Datasym`s Menumate is the market leading software solution for Patient Meal Ordering where our applications can be run from a multitude of hardware, all of the software is developed and product managed in house by Datasym.
Menumate Front Office – iPad and Windows (preferred operating system is IOS)
Menumate Bedside – Uses Bedside Terminals
Menumate Bring Your Own Device (BYOD) – Allows patients to order their meals using their own device using a WiFi platform.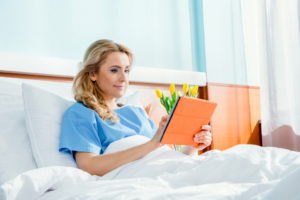 With so many paper based meal collation solutions being used within the NHS infections can be easily passed internally as there are many touch points within the process.  Datasym` s electronic meal ordering system can reduce the touch points for taking patient orders and therefore reduces the risk of spreading infections within a hospital.
By utilising either the Bring Your Own Device or Bedside Entertainment Terminal solutions targeted information can be provided directly to patients, this information is provided by each Trust and can be ward specific.
The applications (with the exception of the Bedside Terminals) can be run and managed through any Trusts patient monitoring and tracking systems, each link is developed inline with each NHS Trusts policies, for example if Datasym developed a link into Cerner it would be as the Trust needed the system to work, the type of information we can import is Patient code, patient name, dietary information including religious and cultural menus.
By using this simple data import from a Trusts patient platform patients food offerings will be tailored directly to their needs and would not allow a patient to order or see food choices not relevant for them.
With regards to the hardware required to run your solution (all three of the above solutions can also be run and manged simultaneously) Datasym can provide the iPad`s but prefer each Trust to provide their own hardware as this can be financially cheaper and also easier to manage with Trust IT. The hardware that is provided can also be locked down to stop patients and staff from using the hardware other than for its intended use.
Once the system is setup the solution is fully managed by each Trusts Catering Department allowing flexibility of menu choices, available menu times for patients to order (this can also be ward specific). The Catering team can also monitor the progress of meals ordered by each ward with the ability to look at individual patients orders and if required make changes to the order live from either the bedside or remote location within the Trust.
The Datasym meal ordering screen has been designed and developed to make ordering food as simple and clear as possible allowing patients to be able to see an image of the dish they are ordering as well as nutritional, allergen and healthy eating / vegetarian information attached to that dish. Patients and staff can also change the current choices made by a patient whilst the meal ordering window is active.
Contact Datasym at sales@datasym.co.uk or call 0844 870 9206 for further information.