Datasym was pleased to be part of the HCA Conference 2022 at the  ACC Liverpool
It is always a pleasure to attend the annual HCA conference and this year was especially special.  Everyone has been through so much with the pandemic of the last few years and the varying restrictions throughout this period have meant that it hasnt been possible to meet up at the conference as we have done in previous years.  The pandemic seems to have been ongoing for such a long period and we are proud to have been serving the NHS throughout this time.  Datasym wanted to do everything possible to ensure our solutions were able to help wherever needed and this included the donation of a solution to one of the Nightingale Hospitals which was setup specifically to address the influx of Covid related patients.  Although not free of Covid yet, restrictions have been lifted to allow the conference to take place again for all of our friends and colleagues to come together.
We were pleased to be joined on our stand this year by Geoff Moyles.  Previously the Catering Manager at Royal Victoria Infirmary, Gateshead, Geoff brings a users perspective to discussions around the Datasym products.  Having used Menumark successfully within RVI over many years, it was exciting to see Geoff sharing his experiences and the ways in which he used Menumark with other existing Datasym users as well as prospective new ones.
RVI has been extremely successful in implementing Datasym's retail options across the site.  This year, with a lot of focus on retail within hospitals, we brought our latest kiosk option to show and let people go hands on with as well as our Menumate bedside ordering solution which will be released in due course in its latest web based format.  In addition to the kiosk we were able to demonstrate our latest 'Click and Collect' solution which allows orders to be placed via a website or Android / iOS app on your phone for collection at a set time and nominated collection point.  This in turn links to our latest Datasym KDS (Kitchen Delivery Screen) solution also on show at this years HCA.
The feedback from exhibitors and attendees alike this year was both positive and enthusiastic.  We are now looking forward to HCA 2023.  I wonder what exciting products we will be able to show to you in 2023….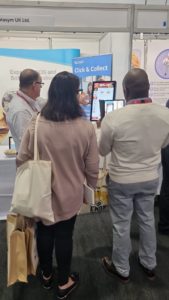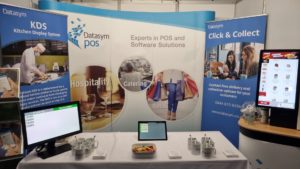 For more info on any of Datasym's products please email sales@datasym.co.uk or call us to discuss on 0844 870 9206